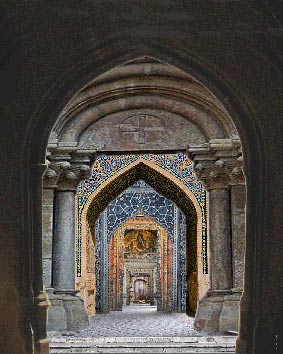 Comparative Approaches to Ethnicity, Region and Empire in Christianity, Islam and Buddhism (400-1600 CE) (VISCOM).
Under the direction of prof. Walter Pohl, a group of social anthropologists (Institute for Social Anthropology – Andre Gingrich) and tibetologists (Department of South Asian, Tibetan and Buddhist Studies – Helmut Krasser), as well as specialists in the field of Austrian and Eastern European History (Universität Wien - Christina Lutter, Oliver Schmitt), will be working together, taking a comparative approach to the questions posed. The project, with an initial duration of four years, is carried by the University of Vienna in cooperation with the ÖAW.
VISCOM focuses on the question how universal religions have shaped the construction of particular communities and identities in the middle ages. The project proposes a comparative approach focusing on Christian, Islamic and Buddhist examples in the course of the 'Middle Ages' in order to explore the interaction between religious and political 'visions of community'. All three religions were used to legitimize imperial rule, but they also encouraged other forms of community, be they local, regional, civic or ethnic. Here, interesting differences become visible: for instance, ethnicity played a different role in the three cultural zones. Was that due to the respective impact of religion, or, in some cases, rather to their lack of impact? How did concepts, perceptions or cultural memories frame the emergence of new communities, and how were they in turn influenced by religious discourses? How did different forms of community (for instance, regional or ethnic groups and empires) interact? These problems are situated between the fields of history and social anthropology, of European and Asian studies, between religious and political history, between research on discourse and on practice, and therefore have not been addressed sufficiently so far. VISCOM is intended to bridge these gaps. It will operate on two levels:
First, it will conduct a series of exemplary in-depth studies on the basis of (mostly) written sources dealing with discourses of community and their impact. The examples will be taken from research areas that represent particular strengths in the academic landscape of Vienna and are well connected internationally: early medieval Europe; medieval southern Arabia, Iran and Tibet; high to late medieval Central Europe; and the late medieval western Balkans. These projects should be pursued in close contact among the research team and with a systematic comparative perspective.

Second, it will reflect on the process of comparative research and model-building itself. Our vision of history has gradually become globalised, but the methods and models have not kept pace. One important issue is to historicise our terminology by making clear what particular terms such as 'religion', 'ethnicity', 'identity' or 'state' may mean in a given region or period. The methodology of comparative history, in medieval studies and beyond it, needs careful revision, and the interdisciplinary team collaborating in VISCOM has the potential to explore its chances and pitfalls. The intended result will therefore go beyond the knowledge gained from the single projects. It will strive for best practice in interdisciplinarity, and aim to push disciplinary research further by raising new questions and introducing new methods. In short, it should open ways to analyse and reconstruct complex societies and their changes that are also applicable to other historical periods.
---
Univ.Prof.Dr. Walter Pohl
Universität Wien
Dr. Karl Lueger-Ring 1
A-1010 Wien